Darlington Storm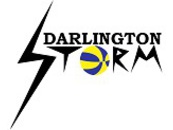 Darlington Storm
' ......STORM STRONG ....... '
Darlington Storm A - Darlington Storm
Team
Darlington Storm A
Darlington Storm entered the League in 2011. The team took on the Storm 'A' mantle in in 2014.
Darlington Storm Basketball Club expansion saw Darlington Storm's 'flagship Team' ..
STORM 'A' ... entering the Durham County Basketball league Division 1 in 2014 .
The Spectrum Leisure Centre, in Willington Co. Durham, became the Team's home venue.
In 2016/17 season the team is SPONSORED by the ' Spectrum Leisure Centre.'
Follow the site to get the latest news and results straight to your email